It is known that there are not many options for vegans and vegetarians in Anatolia, which has a strong meat, barbecue, and kebab culture. However, there are many nice restaurants and cafeterias that respond to the natural and herbal diet that has become more common in recent years. Trip plans for vegans and vegetarians are listed below. Thus, you can keep your body on the diet to which it is accustomed while also enjoying local delicacies.
Metropolitan areas for vegetarians
If you make your holiday plans in Istanbul, you can find great delicacies in many vegan restaurants, hotels, and cafeterias on the European and Asian sides. You can find pizzas, burritos, meatballs, and doner kebabs without meat. The culinary dishes in the palace kitchen are both light and nutritious. Sugar-free cinnamon desserts and seasonal fruit juice go well together after dinner. Fresh beans mücver, halvah dessert, and tamarind sherbet are great choices. Scrumptious olive oil vegetable dishes should be available on the summer menus.
In recent years, the capital, Ankara, has introduced many vegan venues that add a comfortable and healthy atmosphere to the crowded city life. You can find gluten-free foods, vegetable products cooked with olive oil, and fruit salads in vegan restaurants in Ankara. A vegan burger made from herbal products and foods like soy should be tried. Chinese cuisine is also available.
There are very nice alternatives in Izmir for both vegans and vegetarians, due to the nature of Mediterranean cuisine. Salads and olive oil dishes, especially blended with Aegean herbs, are available in the city. Vegan pancakes and vegetable pide are quite popular. You should try the vegetable juices and delicious smoothies. Many herbs such as radish grass, ivy, sea beans, tangle, gondola, mallow, nettle, cibez, stifno, poppy, and labada should be tried, especially at festival times. Cretan squash, stuffed zucchini flower, and eggplant scallops in olive oil are great dishes to try.
Bodrum & Antalya
There are many vegan places in Bodrum that utilize the Aegean's wonderful vegetables and herbs. In various places, pizzas are cooked with vegan cheese and vegan sausages. If you are around, visit Sakız Ana restaurant, which serves vegetarian food with local herbs.
The holiday paradise, Antalya, welcomes tourists with its diverse concept that appeals to every taste and every lifestyle. The number of vegan restaurants in Antalya has increased dramatically in the last 2 years. In particular, Chinese cuisine offers fresh delicacies that are free of animal products. Vegan tables are set up for breakfast, and citrus-based menus are prepared as well.
Mersin and Adana options
The authentic taste of Mersin's legendary fellah meatballs is reinterpreted with vegan options. Kebabs and muffins made entirely of vegetables and herbs are also prepared for vegans. You can try falafel, hummus, tabbouleh, manakish, ful medame, and fattoush.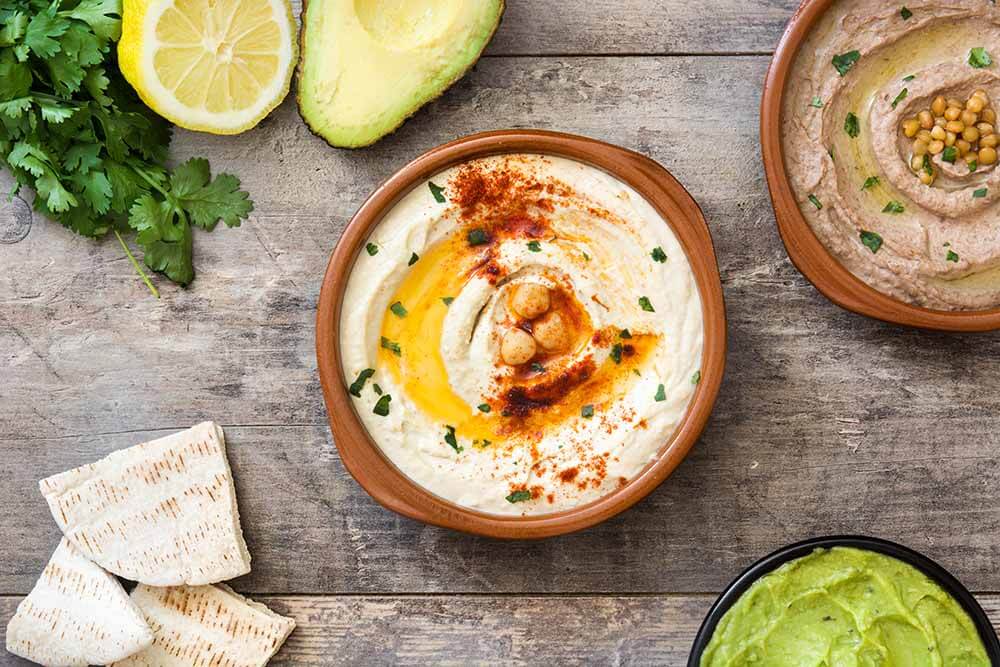 Different hummus bowls. Chickpea hummus, avocado hummus and lentils hummus.
Northerly tastes
You can taste many vegetable dishes in the northern cities near the Black Sea, which is famous for its fish as well as its vegetables. Dible, made with rice and black cabbage and accentuated with the herbs of the region, is often served with nettle soup and offers great flavors. The Black Sea pita offers a different taste with seasonal herbs. Corn bread can be added to these dishes for a delicious result.
Eastern delicacies
In Mardin, famous for its historic stone houses, be sure to try the vegan kibbeh. Zingil will be a great choice as a dessert made from grape molasses. Make a breakfast of local herbs and fruits in Van. Borani and spoon desserts are also wonderful tastes. In Diyarbakır, eggplant meftune, yoghurt puff, and serbizer will be the best choices. The apple fudge is enticing with both its appearance and taste. Sumac juice and paluze dessert are authentic vegan flavors that you should definitely try.
Çanakkale and Kocaeli
You can sweeten your palate with raw and vegan cuisine in Çanakkale. You can try sugar-free and gluten-free desserts. Ovmaç soup, eggplant-tumbi, whisk pastry, and a different mushroom melki dish are wonderful authentic tastes to enjoy as well.